We have the fishing rights on the River Irwell , both banks downstream from the M60 to Agecroft bridge
The river here has much variation in flow. Some deep holding pools, some long fast riffles. Its a great place to have a days wander.
Species include Brown Trout, Roach, Dace, Chub, Bream, Pike, Perch and the very occasional Barbel.
If you're fishing small baits in summer – be prepared for minnow madness !
Upstream Limit – M60 motorway bridge
Downstream Limit – Agecroft Rd bridge
Giant Hogweed (pictured below) grows in large stands on this section of the river.
Please take extra care not to get the sap from this plant on your skin – it can cause painful blistering and scarring which can last for years!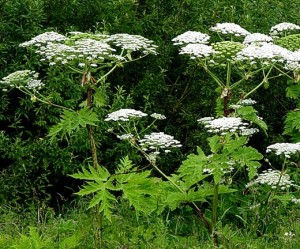 A nice looking plant – but you don't want to end up like this.