WELCOME TO THE SALFORD FRIENDLY ANGLERS SOCIETY The Salford Friendly Anglers Society was instituted on the 2nd of April 1817, and is by some considerable margin the worlds oldest angling society. We would like to invite you to join us via our free membership option, to join what has become the River Irwell and its tributaries largest environmental lobbying group. Our four primary objectives are: 1. To raise the profile, and public awareness of the River Irwell and its tributaries as a leisure facility. 2. To ensure that our local authorities, United Utilities and the Environment … Continue Reading..........
Our Christmas meeting will be on Weds 20th December 7.30pm at the Racecourse Hotel, Littleton Rd, Salford, M7 3SE The meeting will follow our usual Christmas format - beer, fish and chips, … read more
Salford Friendly Anglers Society turns 200 years old on the 2nd April 2017 - to celebrate our bicentenary we will be holding a number of special events and competitions. Our first event is the … read on
River Roch Water Quality Data
River Irk Water Quality Data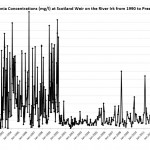 Remember a few weeks ago, we ran a page called River Irwell Water Quality showing oxygen, ammonia and phosphate levels in the River Irwell - and how … more................
River Irk Restoration Project
The "Dirty Irk" The river that time forgot - once described as one of the top 5 trout streams in the country and now a shadow of its former … ,,,,,,,,,,,,
We've been asking for information about water quality on the River Irwell from the EA since 2010. Our initial request was met by a very swift
As a result of the passing of the Friendly Societies Act in 1817 a group of like minded anglers in Salford, Lancashire decided to institute a Friendly Society for the benefit of local anglers. Salford Friendly Anglers was instituted on 2nd April 1817. As well as offering fishing on the … .......continue reading
Welcome to Salford Friendly Anglers Society Please click on the links below for a welcome message in your … More................
News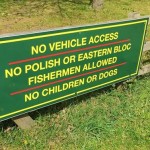 December 17, 2017 By admin Leave a Comment
There's no plaice for racism in our sport. A fishery owner has put up this sign at his fishery -- … [Read More...]
Please click on the link to find the details about each of these waters: River Irwell - M60 downstream to Agecroft Old River Irwell - … continue reading