WELCOME TO THE SALFORD FRIENDLY ANGLERS SOCIETY The Salford Friendly Anglers Society was instituted on the 2nd of April 1817, and is by some considerable margin the worlds oldest angling society. We would like to invite you to join us via our free membership option, to join what has become the River Irwell and its tributaries largest environmental lobbying group. Our three primary objectives are: 1. To raise the profile, and public awareness of the River Irwell as a leisure facility. 2. To ensure that our local authorities, United Utilities and the Environment Agency continue to … Continue Reading..........
Christmas Quiz Night with Fish & Chip Supper will be held on Wednesday the 18th December 7.30pm at the Kings Arms, Bloom St, Salford, M3 6AN
Always a good do – great beer, fishing quiz, prizes, optional fish and chip supper ordered at the bar for a fiver, strong possibility of late night lock in at un-named Salford bar…………promises to be yet another night to remember!
Everyone welcome, great beer, even better fishing chat (mostly lies)
Old River Update. The Old River is fishing really well for Pike so far this winter, to the fly and dead baits. Biggest reported to me over the last couple of weeks was a good upper double. If you're going to fish across, don't forget that there are fish refuge cages under or near each floating island – snag city! I've also had a report from one of the match lads telling me he was on the old river last weekend catching a fish a chuck all day long on punch bread … continue reading.....
As a result of the passing of the Friendly Societies Act in 1817 a group of like minded anglers in Salford, Lancashire decided to institute a Friendly Society for the benefit of local anglers. As well as offering fishing on the local River Irwell, society members as part of their subscriptions … .......continue reading
News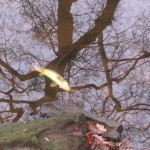 December 10, 2013 By admin Leave a Comment
Bradshaw Brook - the jewel in the Irwell crown has been polluted. Local walkers found 100s of … [Read More...]
Please click on the link to find the details about each of these waters: River Irwell - M60 downstream to Agecroft Old River Irwell - … continue reading