The "Dirty Irk"
The river that time forgot – once described as one of the top 5 trout streams in the country and now a shadow of its former self.
A river that often reeks of sewage,that's frequently polluted by industry, that's been modified by humans beyond recognition, a river that's long been considered "beyond the pale" by the EA, that has poor water quality, and low fish stocks, low invertebrate numbers,a river whose summer flow is comprised of over 90% sewage effluent and originates in the Lake District, brought to Greater Manchester via the Thirlmere Aquaduct. Who could love the dirty Irk ?
You already know the answer – we do !!!
The Irk has a habit of throwing up surprises – back in 2007 our club chairman caught this mega trout whilst trotting for roach
Sadly the Irk suffered a massive fish kill  shortly afterwards (well it wasnt that big, because there weren't that many fish to kill) caused by a chemical leak from a firm in Middleton and this fish was lost.
Thankfully, fish are incredibly resilient – just like the Irk.
During a winter walk through Blackley Forest – one of our members spotted what he thought were trout redds that had been cut by spawning fish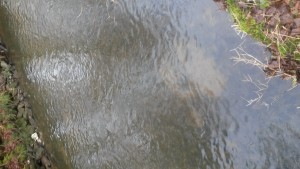 Redds cut in the gravel bed
This discovery led to a couple of exploratory fishing sessions – where a few anglers caught trout and chub. Also a chance meeting with a couple of young local anglers gave us the information we were desperate for – Pike, perch, roach, chub, trout and tench – all exist – but in isolated pockets and low numbers. (Don't forget that the Rochdale Canal burst its banks a few years ago and spilt its contents into the Irk near the Rose Of Lancaster pub in Middleton.
Hows about this for another bonny fish – from the Irk, a river that fails every single standard water quality check.
What to do next ?? We'd love to take on the Irk as a Salford Friendly Anglers river, a great project. Anglers being at the forefront of the restoration of one of the UKs dirtiest streams. We hope that just like the Irwell, the Irk can become yet another local river that was once as dead as a dodo – yet came back to life and gives us great pleasure.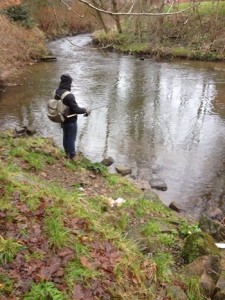 We contacted our great friend Dr Paul Gaskell of the The Wild Trout Trust, a scientist with unequaled knowledge in the field of urban river restoration, and he agreed to come over and help us by choosing a section of river and writing a short restoration report.
Paul came over in mid Jan 2015 and the report he wrote can be read here River Irk Restoration Report
Both the Environment Agency and Manchester City Council came along to talk to Paul on the day of his visit and their initial noises are very enthusiastic. We now need to convert Pauls great report and recommendations into a series of practical actions – get funding – then a River Irk Restoration Project can get underway – designed and led by our SFAS angling community.