Late last summer Drinkwater Park Lake had a 95% covering with blanket weed. It made fishing impossible for most anglers, and we were extremely worried that it would pose a significant health risk to fish stocks once it started to die off and rot in the winter months.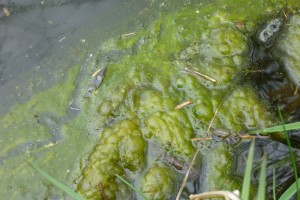 We organised various small work parties through August and September 2013 to try to rake out as much of it as we could, but it grew back quicker than we could take it out.
So on Sunday the 25th March – we have placed 7 large sausages of barley straw in the water – (which emit a natural herbicide as it rots down) and hopefully this will prevent the dreaded blanket weed from taking a hold again.
Many thank to those who turned out to help.
We also held a smaller work party on the Old River earlier in the month – with the sole purpose of replacing rotten timbers on some of the pegs. Again – many thanks to Phil Clayton, John Jones, and Phil Cantliff for their help.
We have one more work party planned in Spring 2014 – on the River Irwell in Lower Broughton when we intend to have a planting session of water crows foot. This is likely to take place on Sunday the 13th April – more details to follow on this work party in the week leading up to the event