Remember a few weeks ago, we ran a page called River Irwell Water Quality showing oxygen, ammonia and phosphate levels in the River Irwell – and how these parameters had improved over time ?
At the end of the article – we called for the Environment Agency to release figures for other local rivers too, as we have a really keen interest in all our local rivers not just the Irwell.
Imagine my pleasure yesterday to receive the historic water quality data for the River Irk
Dissolved oxygen levels are acceptably high, Ammonia appears to be reducing over time (signficant reductions since 2000) however Phosphate levels remain stubbornly high.
We have also been given the Environment Agencies electro fishing survey data – which unsurprisingly shows fish stocks to be nearly none existent in the Irk and Wince Brook, and totally absent in Moston Brook.
We will be able to make great use of this data in our forthcoming River Irk Restoration Project – and it gives us a great base line set of data from which we can monitor progress.
Anyway here is the data……
Historic Ammonia chart
Recent Ammonia Levels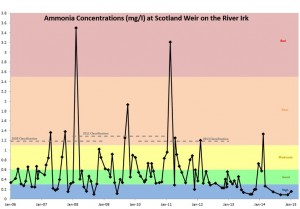 Recent Dissolved Oxygen Levels
Recent Phosphate Levels
And here is the fish survey data including dates and locations
I hope you find this stuff interesting – I will keep sharing all the data of this type which we can get our hands on.
We have a meeting on the 23rd with Manchester City Council to discuss the excellent Irk Report which was compiled by Dr Paul Gaskell of the Wild Trout Trust – and to see how we can begin to implement its recommendations to improve our lovely River Irk